So I didn't buy anything from the Pedder Warehouse Sale at Times Square. The shoes that stayed on my feet the longest were a pair of pink, metallic, mirroir
Louboutin
peep-toe pumps, a pair of brown leather, cut-out
Rupert Sanderson
booties, and a pair of black, satin, wide-strap
Stella McCartney
pumps. But I didn't love any of them enough.
Necklace-turned-keychain on Candy's bag.
Because Candy and I left empty-handed, we decided to do some more shopping around Causeway Bay. After neither of us bought any shoes, which was the whole point of the night, I decided to take some photos of people outside Sogo.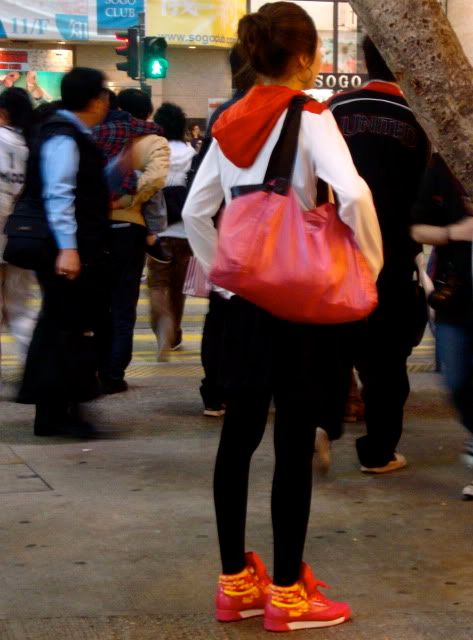 Sporty but feminine.
A couple that don't look bogged down by their backpacks (only their shopping bags). I like that the girl's not afraid to play with bold colours.
I was worrying too much about the girl in the middle seeing me so I kept moving. What you might make out of the photo is that she's got a giant black tote, is donned in monochromatic grey, and wearing light pink ballet flats, but what you don't see is her grey scarf with giant red skulls all over it. I love a girl who isn't afraid to pair red and pink.
J